Alison Hodivala Partner Director at Introhive and Brand Marketing Specialist Susanne Pugsley presented at PM Forum tonight hosted by Bird and Bird. It was fantastic to hear them share their thoughts on how to truly unlock the potential of client relationships and do it at scale across an organisation.
We all know that our 'Relationship Capital' is key to our success. What has changed, pointed out Alison, is the expectation of our clients and prospects. As I have written about before 2 key things have changed:
- There has been a phenomenal rise in client expectation. You must know your clients in depth and you must know them across your firm.
- Tech is disrupting the way people will engage with you and buy from you. Prospects are investigating your solutions way before they get in touch. They are not engaging in a traditional manner. You must drive the conversation establish yourself as the trusted advisor so there is no question of who can solve their challenges.
In short all clients across your client base expect amazing service and expect you to know them - properly know them.
The challenge is that there is a disconnect between our intention (ie have great relationships and know as much as we can about our clients) and reality of our knowledge.
Alison shared a Gallup poll which looked at B2B relationships. An incredible stat is that only 29% of B2B customers are actively engaged with clients. The remaining 71% either indifferent or actively disengaged. You really do not want to be actively disengaged with!
Accenture research states that 64% of customers who switched provider last year did so due to poor customer service. Importantly customers who switched believe the incumbent provider could have done something to prevent them from leaving. They left because they did nothing.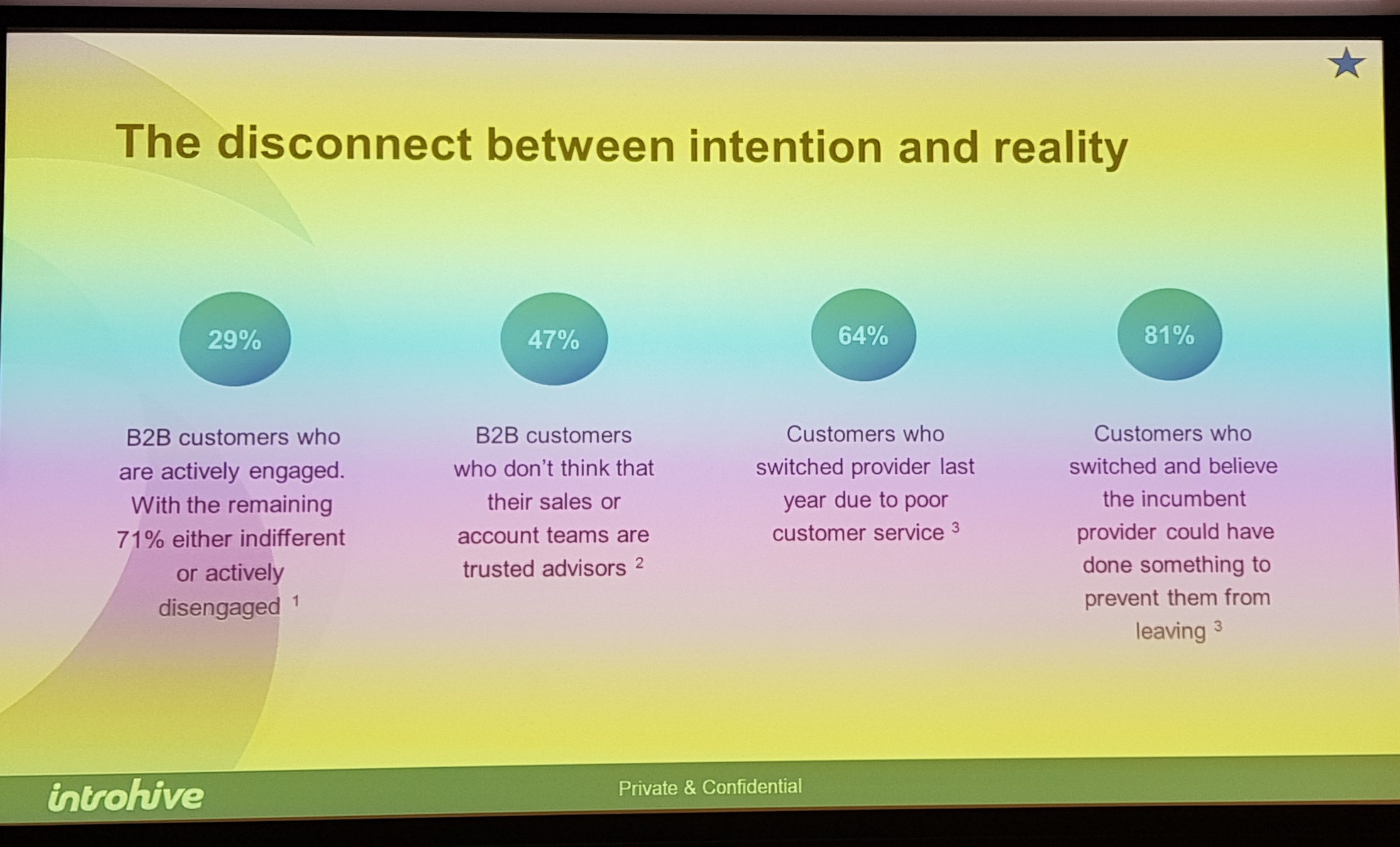 The question then is to ask is how well do you as an organisation know your client. You must know who you know and you must know who everyone else in your firm knows. Silo'd relationships are not acceptable anymore. Another great hint from Susan "if you are sending or receiving an email headed 'Does anyone know anyone at firm x -- we are hoping to do business with them?' you are doing it wrong"!
"Relationships underpin the success of every organisation yet for most they are the result of success rather than a driver of success"
Referrals are key in any of our businesses - As Alison said "Executives are 5 times more like to engage via a warm introduction". This is obvious - If you do not leverage and 'sweat' your relationships and do that at scale you limit your chances of driving business.
Relationship capital is the value that is created by having, nurturing and managing good relationships. This can be done. Harnessing the data and presenting the data to key people in your organisation can drive business strategy, marketing and BD alignment and inevitably result in truly improving client experience.
Clients expect you to know them. They are judging you. Not knowing / ignorance puts you on the back foot.
To conclude - know who from your firm knows who at clients and prospects; and be sure to know how well they know them. Have an objective view based on data - not on colleagues' gut feelings or on someones say so.
With this understanding you can create a better way of working across your organisation and therefore fundamentally get better at solving the problems of your clients and prospect.
{
Business is all about relationships Many companies have an inaccurate perception of their customer relationships - Gallup
https://sites-pmi.vuturevx.com/9/1154/may-2019/sources-of-competitive-advantage---tuesday-11-june-2019--london---guest.asp?sid=e3e2e7ef-c3a0-499d-bc6a-e2340e0be073
unknown

x

500
More posts by James Barclay